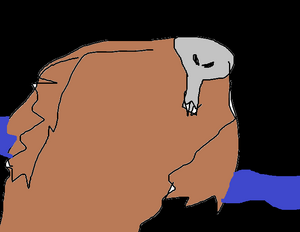 STATS Has been the God of the Day Can turn money into anything.
WHO IS HE?
Sphin is the Orren "God" of Death. He is depicted as a huge, shaggy creature, like a Yeti. He guards the Underworld. If you are evil, he will eat you, but if you are good in life, and give him a coin (1 Oww), he will let you pass into Heaven.

FAMILY
It is unknown whether Sphin counts as a God or a Monster, or both. He is the son of Malaeas, the Orren God of Birth, and Malaea, the Orren Goddess of Motherhood.